Over 200+ FREE LIVE CAM
models to chat with! Click HERE!
»
Last Update : September 27, 2015
Oh My Goodness!! Will you take a look at the INCREDIBLE BREASTS on this young little lady!!! Her 32F CUP BREASTS are about as BIG as her head and she is as cute as can be!!! This is ANGELICA and she stands only 5 feet 2 inches tall, but her TITS are HUGE!! Couple that with a BIG SET of NIPPLES that she loves to show through each shirt she wears and she makes the perfect addition for our model selection here at TopHeavy.com!! If you like her then CHER for her!! I know she looks good but we to let her know as well!! Email us your comments and welcome her with open arms!!

Click on the link below for this weeks pictures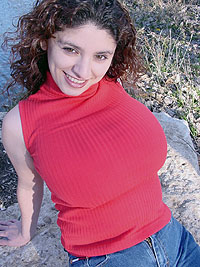 See me TOPLESS very soon!!